THE ROLE OF STRUCTURAL DIFFERENCES OF FLAVANOLIGNAN SILYBIN STEREOIZOMERS IN BINDING TO HEPATOCYTES
<![if !supportEmptyParas]> <![endif]>
J. Šebestian1,2, Š.B. Šebestianová3, Z. Švagera4 and A. Jegorov5
<![if !supportEmptyParas]> <![endif]>
1 Institute of Physical Biology, Univ. South Bohemia, Nový Zámek 136, CZ-373 33 Nové Hrady, CZECH REPUBLIC
2 Dept. Plant Physiology, Fac. Biol., Univ. South Bohemia, Branišovská 31, CZ-370 05 České Budějovice, CZECH REPUBLIC
3 Dept. Genetics, Fac. Biol., Univ. South Bohemia, Branišovská 31, CZ-370 05 České Budějovice, CZECH REPUBLIC
4 Institute of Medical Chemistry and Biochemistry, Fac. Med., Palacký Univ., Hněvotínská 3, CZ-775 15 Olomouc, CZECH REPUBLIC
5 IVAX CR, Research Unit, Branišovská 31, CZ-370 05 České Budějovice, Czech Republic
<![if !supportEmptyParas]> <![endif]>
Hepatoprotective effects of Milk Thistle (Silybum marianum) have been known since ancient Greece and Roma very well. Flavanolignans (called silymarine) extracted from Milk Thistle seeds were shown to help against hepatotoxic effects of many natural toxins (i.e. alga toxin microcystine, mushroom toxins amanitin and phaloidin, fungal toxins cyclosporines, etc.). The main active substance of silymarin is silybin.
Recent studies revealed that many transport and metabolic processes in the cell are stereospecific. Silybin occurs in two stereoisomers (A and B) that differ in the bound between konyferyl and taxifolin (Fig. 1). We developed a new method for preparation and purification of these silybin stereoisomers and for their specific labelling by radioactivity (3H, 125I) at positions 6 and 8. Transport of four stereoisomers was studied. The best affinity of transport systems were found for 6-[125I]silybinA, which is taken 100 times better than the other silybin stereoisomers.
<![if !supportEmptyParas]> <![endif]>
Figure 1
<![if !vml]>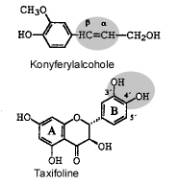 <![endif]><![if !vml]>

<![endif]>
<![if !supportEmptyParas]> <![endif]>
This work was supported by grants GACR 204/98/P129, MSMT CEZ:J06/98:123100001 and GACR 521/99/D098.
<![if !supportEmptyParas]> <![endif]>
Jiri Sebestian
Tel.: +420 38 7772349
Fax: +420 38 5310366
E-mail: sebest@jcu.cz
<![if !supportEmptyParas]> <![endif]>