LOD METHOD FOR DETECTION OF LOW AMOUNT OF ONE POLYMORPH IN ANOTHER ONE
Hana Petříčková
Zentiva a.s. R & D Laboratories of Solid Phase Analysis, U kabelovny 130, 102 37 Prague – 10, Czech Republic
Modern pharmaceutical R&D analytical department is toothless without solid state characterization techniques.  XRPD plays at this field essential role.
Crystallization is one of the most important processes during the production of pharmaceuticals. Polymorphic behaviour of pharmaceutical substances is common as well as the diffraction pattern of such polymorphs are different.
Control of polymorphic purity may be crucial from many points of view such as stability, dissolution or patent infringement. Also LOD (limit of detection) determination is part of validation method of the identification test specifications. 
To detect low amounts of unwanted polymorph, which can be present in large scale produced polymorph, the powder X-ray diffraction method was developed. Results of two case studies will be presented. LOD determination of crystalline polymorph II in polymorph I. and LOD determination of crystalline polymorph I. in amorphous material will be presented. Produced polymorphic form I is more stable and better soluble comparing to form II., presence of form II is undesirable. XRPD is also used as a negative evidence of amorphous form, no sharp peaks are satisfactory.  Corresponding diffractometer setting and key parameter will also be discussed.
<![if !vml]>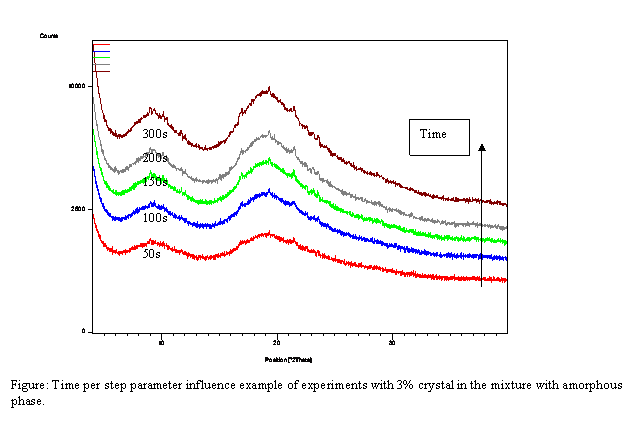 <![endif]>